The Hepatic Antioxidant Defense Efficacy of IDA Propolis in Aflatoxin B1 Administered Male Rats and Related Histopathological Findings
Aflatoksin B1 Uygulanan Erkek Siçanlarda İda Propolisin Hepatik Antioksidan Savunma Etkinliği ve Histopatolojik Bulgularininin Araştirilmasi
Keywords:
Key Words: Aflatoxin B1, Histopathology, Hepatic Antioxidant Defense, IDA Propolis, Wistar albino (Rat).
Abstract
Acute and chronic hepatitis and liver cirrhosis are very common diseases in today's world. Consequently, the treatment method using natural products has gained prominence in the prevention of liver damage. Apiculture products are known to be effective in the prevention of numerous diseases and treatment of the liver disease in particular. Products such as honey, pollen, propolis and royal jelly have a high antioxidant effect on the human liver and all other body cells. These products, which are collected and concentrated by honeybees in the nature, contain elevated levels of carbohydrates, vitamins, coenzymes, polyphenols, aromatic compounds and phytosterols. Thus, animal tests are reportedly conducted with a view to preventing hepatitis using natural extracts. Research studies involving apiculture products have proven to be effective in the recent years, most of which are focused on using propolis to prevent hepatitis. The present study aims at observing the damages caused by Aflatoxin B1 on rat liver and determining the beneficial effects of propolis on liver tissue.
Downloads
Download data is not yet available.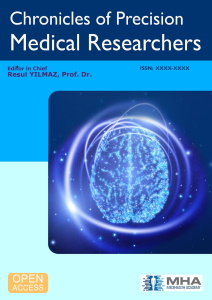 Downloads
How to Cite
Uzatıcı, A., KILINÇ, N., Çelik, K. ., Şener, A., & Elmas, S. (2022). The Hepatic Antioxidant Defense Efficacy of IDA Propolis in Aflatoxin B1 Administered Male Rats and Related Histopathological Findings: Aflatoksin B1 Uygulanan Erkek Siçanlarda İda Propolisin Hepatik Antioksidan Savunma Etkinliği ve Histopatolojik Bulgularininin Araştirilmasi. Chronicles of Precision Medical Researchers, 3(3), 107–114. https://doi.org/10.5281/zenodo.7193089
Section
Original Articles
License
Copyright (c) 2022 Chronicles of Precision Medical Researchers
This work is licensed under a Creative Commons Attribution-NonCommercial-ShareAlike 4.0 International License.