Investigation of Brucella knee prosthetic joint infections by Pool Analysis Method
Keywords:
brucella, revision arthroplasty, unpasteurized dairy products, knee arthroplasty, revision knee arthroplasty
Abstract
Objective: To contribute to the literature on diagnosis, clinical and treatment by scanning the current literature with brucella prosthetic infections
Material and Method: To find the published series, four databases (Scopus, Google Scholar, Pubmed and the Web of Science database) were searched. As the data from congress books were heterogeneous, they were not included in the study. Pediatric series, evaluation of any other than the knee joint articles and without data not available for search criteria were excluded. All published cases  were evaluated  as similar features. The following data categories were  extracted  from articles:    year,   country,   age,  gender,  risk  factors,   symptoms,  physical examination findings,  laboratory/ radiological findings,  diagnostic  criteria,   treatmens  and  outcomes.
Results: As a result of the search with the defined keywords, 27 publications and 28 reported cases were identified of patients with  Brucella knee prosthetic joint infections.
The average age of the patients for whom data were provided was 65.59±8.42 years. 13 of the cases were female and 14 were male, in one publication did not have gender information. Eating unpasteurized dairy products (50%) was the common risk factor.
Conclusions: Successful results are observed with 2-stage revision arthroplasty and at least dual antibiotic therapy in prosthetic infections due to Brucella. In addition, it is beneficial that the cement used is antibiotic-proof. Care should be taken after traveling to endemic regions, and care should be taken about the consumption of non-pasteurized dairy products.
Downloads
Download data is not yet available.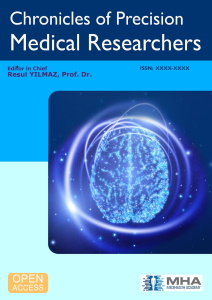 Downloads
How to Cite
Kuyubaşı, S. N., Demirkıran, N. D., Öner, S. K., Kozlu, S. ., & Alkan, S. (2022). Investigation of Brucella knee prosthetic joint infections by Pool Analysis Method. Chronicles of Precision Medical Researchers, 3(3), 159–163. https://doi.org/10.5281/zenodo.7195828
Section
Original Articles
License
Copyright (c) 2022 Chronicles of Precision Medical Researchers
This work is licensed under a Creative Commons Attribution-NonCommercial-ShareAlike 4.0 International License.