Factors determining early period outcomes in geriatric patients receiving inguinal hernia repair
Geriatric inguinal hernia repair
Keywords:
Emergency, Morbidity, Hematoma, Ileus, Surgical site infection
Abstract
Aim: This study is aimed to evaluate the relationship between early period outcomes and clinical features in geriatric patients who were operated on for an inguinal hernia.
Methods: Geriatric age patients who were operated on due to an inguinal hernia at a tertiary health centre between 2010 and 2020 were searched retrospectively. Patients aged 65 and over were included in the study, while patients under 65 were excluded. After collecting patients' clinical features, their effect on early period outcomes was investigated by Chi-Square Tests, assuming a significant p-value was below 0.05.
Results: One hundred and fifty-one patients were included in this study. The mean age of the patients was 71.99±5.74 years (range from 65 to 94), and 137 (90.7%) were men. Overall morbidity increased only in emergency surgery (p=0.018), and its rate was 13.2%. The haematoma rate increased in emergency surgery (p=0.001) and the patients with bilateral-side hernias (p=0.019). However, surgical site infection decreased with the presence of comorbid disease (p=0.040). On the other hand, ileus and rare complications were not affected by any clinical factors.
Conclusion: In patients diagnosed with an inguinal hernia at old age, elective surgery should be planned to reduce the overall morbidity, regardless of surgery type, anaesthesia method, and hernia localisation.
Downloads
Download data is not yet available.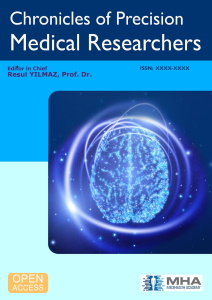 Downloads
How to Cite
Kartal, M., KALAYCI, T., & YENİ, M. (2022). Factors determining early period outcomes in geriatric patients receiving inguinal hernia repair: Geriatric inguinal hernia repair. Chronicles of Precision Medical Researchers, 3(3), 168–173. https://doi.org/10.5281/zenodo.7195756
Section
Original Articles
License
Copyright (c) 2022 Chronicles of Precision Medical Researchers
This work is licensed under a Creative Commons Attribution-NonCommercial-ShareAlike 4.0 International License.