Colorectal Cancer Risk Factors And Colorectal Cancer Screening Awareness Levels In Adults Applied to Family Health Centers
Colorectal Cancer Screening Awareness Levels In Adults
Keywords:
Colorectal cancer screening, awareness, family health center
Abstract
Aim: The aim of this study is to determine the colorectal cancer (CRC) risk factors and CRC screening awareness levels in adults who apply to family health centers.
Methods: The universe of this cross-sectional study consists of 83.458 adult individuals aged 20 and over, who are affiliated with family health centers three in the city center of Tokat and two in the districts. The minimum sample size was calculated as 784 people with the formula for calculating a sample from a group with a certain population. The study was completed with 823 volunteer participants. The data were obtained by applying a face-to-face questionnaire to individuals who applied to family health centers and agreed to participate in the study. In statistical analysis, mean±standard deviation, number and percentage were used for descriptive data, and Pearson Chi-square test was used for comparison of categorical variables between groups. Statistical significance level was accepted as p<0.05.
Results: 50.2% (413) of the participants were female, 49.8% (410) were male. The mean age was 40.9±14.1 (20-87 years), 59.2% of them were high school graduates and above. 9.5% had a family history of CRC. 46.8% of them knew which cancers were screened in our country. 51.3% of them had knowledge about cancer early diagnosis, screening and education centers (CEDSEC). 25.2% of the participants about cancer screening stated that they had any cancer screening test for early diagnosis. 41.2% of the participants knew about the existence of CRC screening tests. 14.6% of the participants stated that they had a CRC screening test before, and 80.7% of them had a fecal occult blood test and 19.3% had a rectosigmodioscopy / colonoscopy. 77.5% of the participants had CRC screening tests performed by the guidance of their family physician. A statistically significant difference was found between the participants' previous CRC screening tests according to age group (p<0,001), education level (p=0,028), employment (p=0,002), social security (p=0,042) and chronic disease (p<0,001).
Conclusion: In our study, it was found that the awareness of the participants about cancer screenings and CEDSEC was not at the desired level, about half of them did not have knowledge about CRC screening tests, and the rate of having these tests was low.
Downloads
Download data is not yet available.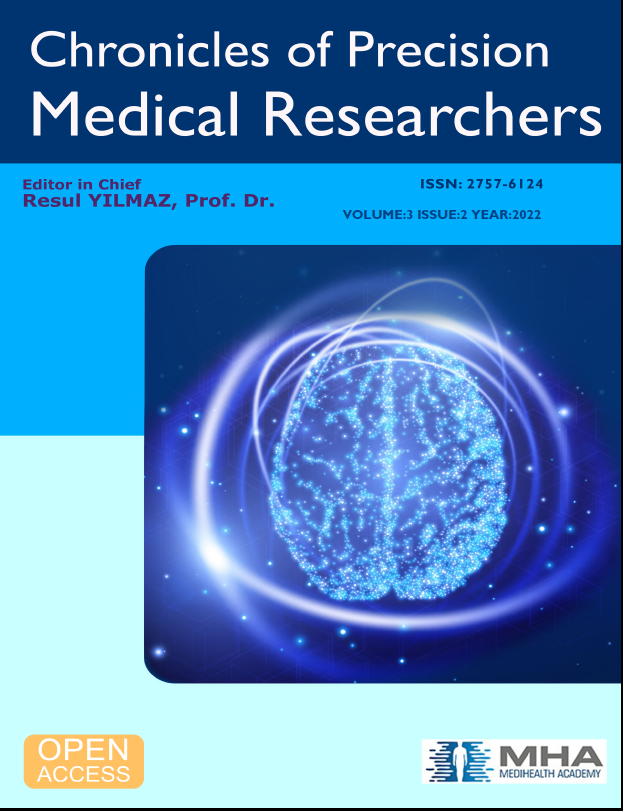 Downloads
How to Cite
Yıldız, M. S. ., Önder, Y. ., ÇITIL, R., & Okan, İsmail . (2022). Colorectal Cancer Risk Factors And Colorectal Cancer Screening Awareness Levels In Adults Applied to Family Health Centers: Colorectal Cancer Screening Awareness Levels In Adults. Chronicles of Precision Medical Researchers, 3(2), 68–77. https://doi.org/10.5281/zenodo.6965919
Section
Original Articles
License
Copyright (c) 2022 Chronicles of Precision Medical Researchers
This work is licensed under a Creative Commons Attribution-NonCommercial-ShareAlike 4.0 International License.