Characteristics of Patients Admitted to the Thoracic Surgery Outpatient Clinic of a Secondary Public Hospital
Patients in Thoracic Surgery Polyclinic
Keywords:
Outpatient clinic, Thoracic surgery, Secondary public hospital.
Abstract
AİM: Thoracic surgery is the department that handles the diagnosis, treatment, and follow-up of thoracic pathologies and thoracic traumas. This study aimed to reveal the characteristics of the patients admitted to a thoracic surgery outpatient clinic in a public hospital.
MATERİAL AND METHOD: The patients admitted to the thoracic surgery outpatient clinic of the public hospital between June-July 2018 were retrospectively analyzed. The patients who were admitted to emergency service and referred from another clinics as a consultation, and patients who made an appointment by mistaking it as a breast polyclinic and chest diseases polyclinic were excluded from the study.
RESULTS: There were 106 (31 female, 75 male) patients admitted to the outpatient clinic. 68 of 106 patients (64.1%) admitted directly. The most common complaint was chest pain in 71 patients (67%). Seventy of the patients (66%) admitted with trauma. Eighty-seven patients (82%) were treated with medical treatment, and seven patients (6.6%) underwent surgery.
CONCLUSİON: Thoracic surgery outpatient clinic is a specific, non-intensive branch of patients who admit primary to the outpatient clinic in public hospitals. Although awareness of trauma has occurred in the community, it has revealed that the area in which chest surgery is concerned should be explained to society more clearly.
Downloads
Download data is not yet available.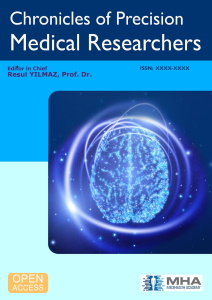 Downloads
How to Cite
Şahinoğlu, T., & Yıldıran, H. (2022). Characteristics of Patients Admitted to the Thoracic Surgery Outpatient Clinic of a Secondary Public Hospital: Patients in Thoracic Surgery Polyclinic. Chronicles of Precision Medical Researchers, 3(3), 99–101. https://doi.org/10.5281/zenodo.7192985
Section
Original Articles
License
Copyright (c) 2022 Chronicles of Precision Medical Researchers
This work is licensed under a Creative Commons Attribution-NonCommercial-ShareAlike 4.0 International License.