Ability of Metabolic Score for Insulin Resistance to Detect Insulin Resistance
Metabolic Score for Insulin Resistance
Keywords:
insulin resistance, insulin resistance indexes, metabolic score for insulin resistance, primary health care.
Abstract
Aim: To evaluate the usability of metabolic score for insulin resistance (METS-IR), a novel insulin resistance index, in our country and to determine the optimal cut-off value of this index for detecting insulin resistance.
Material and Methods One thousand five hundred sixty seven individuals who participated in our check-up program between 2020 and 2021 were retrospectively evaluated with the patient files for inclusion in the study. Insulin resistance was accepted when HOMA-IR≥2.7. Subjects were divided into 4 quartiles according to their METS-IR levels. Receiver-operating characteristic curve was used to determine the indices' predictive performance and the optimal cut-off value of METS-IR to identify insulin resistance. Binary logistic regression model was used to associate insulin resistance with the varying indexes.
Results: Among the 494 participants, 294 (59.5%) were women and the mean age of the subjects was 48.61±12.90 years. As the quartile of METS-IR increased, prevalence of male gender, metabolic syndrome, fatty liver, and levels of age, blood pressure, cigarette smoking, obesity, and insulin resistance indexes, HbA1c increased (all, p<0.001). METS-IR had the highest predictive value for the presence of insulin resistance (AUC = 0.813, p<0.001). The highest sensitivity and specificity were achieved at METS-IR between 39–42. The increase in METS-IR is more significant when compared to other indexes for the prediction of insulin resistance (OR=1.332, p<0.001).
Conclusions: METS-IR can be used as a screening test for insulin resistance in settings such as primary care centers where insulin levels cannot be measured.
Downloads
Download data is not yet available.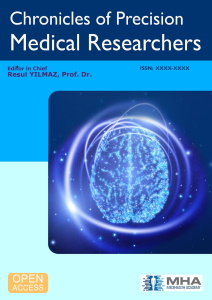 Downloads
How to Cite
Demir, Şevin, & Arslan Çelik, B. . (2022). Ability of Metabolic Score for Insulin Resistance to Detect Insulin Resistance : Metabolic Score for Insulin Resistance . Chronicles of Precision Medical Researchers, 3(3), 187–192. https://doi.org/10.5281/zenodo.7195874
Section
Original Articles
License
Copyright (c) 2022 Chronicles of Precision Medical Researchers
This work is licensed under a Creative Commons Attribution-NonCommercial-ShareAlike 4.0 International License.