Investigation of post-COVID-19 patients' chronic symptoms and clinical findings
Post-COVID-19 and syndromes
Keywords:
Post-COVID-19, CRP, syndromes
Abstract
Background: The objective of this study was to assess whether multiple relevant symptoms recover following the onset of symptoms in hospitalized and nonhospitalized patients with COVID-19.
Materials and Methods: In this study, the data of 81 patients who applied to Ankara Polatlı Duatepe State Hospital between May 01, 2020, and May 05, 2021, were confirmed COVID-19 and were hospitalized in the COVID-19 service for 5 to 20 days, and the data of COVID-19 patients stayed at home were analyzed. 79 female and 21 male patients and mean age was 48.65±14.926 (20-82)  years were included in the study. Demographic, clinical, radiological, and laboratory records of the patients were reviewed retrospectively.
Results: Of those who had the disease, 42 were mild, 33 were moderate, 14 were severe, and 11 were extremely severe. Of the post-COVID-19 patients who had the disease, 14 had therapy in the hospital and 86 patients had therapy at home. Symptoms seen in post-COVID-19 patients were muscle pain, cough, shortness of breath, loss of taste and smell, fever, nausea, hoarseness, and hair loss, and their frequencies were 70, 60, 51, 51, 49, 46, 40, and 31, respectively. While 34% had one or two symptoms and 56% had three or more.
Conclusion: In hospitalized and nonhospitalized patients with confirmed or suspected COVID-19, multiple symptoms are present, about 5 days after symptoms onset. These suggest the presence of a "post-COVID-19 syndrome", and highlight the unmet healthcare needs in a subgroup of patients with "mild" or "severe" COVID-19.
Downloads
Download data is not yet available.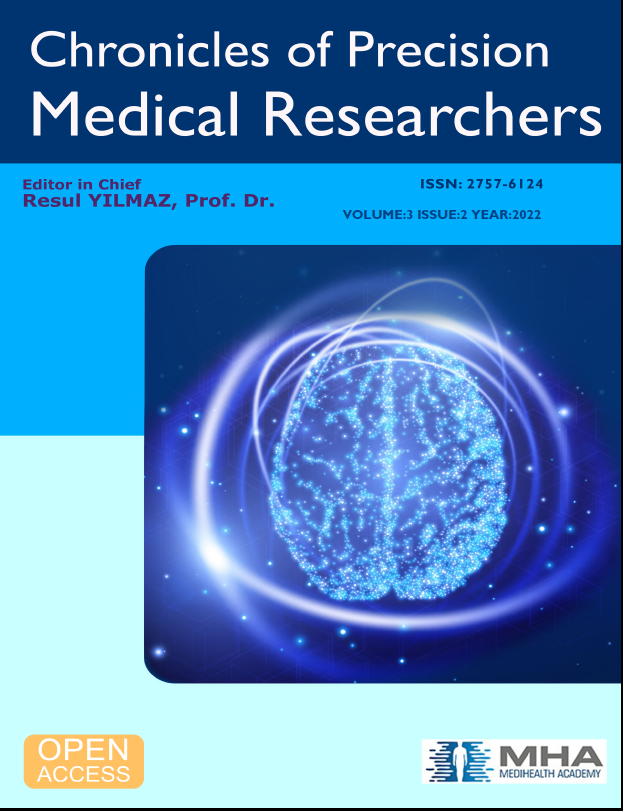 Downloads
How to Cite
Ozturk, R., Yıldırım, F., & Karagecili, H. (2022). Investigation of post-COVID-19 patients' chronic symptoms and clinical findings: Post-COVID-19 and syndromes. Chronicles of Precision Medical Researchers, 3(2), 90–94. https://doi.org/10.5281/zenodo.6966022
Section
Original Articles
License
Copyright (c) 2022 Chronicles of Precision Medical Researchers
This work is licensed under a Creative Commons Attribution-NonCommercial-ShareAlike 4.0 International License.