Evaluation of Psychological Effects of Covid-19 Pandemic Process on Cancer Patients
Depression and Anxiety in Cancer Patients in Pandemic
Keywords:
Anxiety, Cancer, Coronavirus-19, Depression
Abstract
Aim: Coronavirus-19 pandemic poses a threat both physically and mentally for cancer patients (CPs). We aimed to evaluate anxiety and depression levels of CPs during the pandemic period.              
Materials and Methods: In March 2022, CPs treated with chemotherapy and a control group who without a diagnosis of cancer and psychological disorders were evaluated. Volunteer participants completed a questionnaire form included Patient Health Questionnaire (PHQ-9), General Anxiety Scale (GAD-7) and Coronavirus Anxiety and Obsession Questionnaire (CAS, OCS).
Results: 186 (61%) CPs and 119 (39%) control groups were evaluated. 148 (48.5%) were men and 157 (51.5%) were women. 86.1% were married, 50.7% lived in the city center and 40.1% had primary school education. CPs were older, predominantly female, mostly living in the district, had lower education levels, lower working rates and lower income levels. Depression and anxiety scores were higher in CPs    (p=0.041, p<0.001). However, there was no difference between the groups in CAS and OCS scores. GAD-7 was increased by cancers other than breast, curative chemotherapy administration, low education level and low daily television watching in CPs (p=0.049, p=0.031, p=0.028 and p=0.04, respectively).
Conclusion: Coronavirus-19 pandemic triggers anxiety and depression in CPs. The PHQ-9 and GAD-7 are simple administered tests, help to evaluate depression and anxiety.
Downloads
Download data is not yet available.
References
Bogoch II, Watts A, Thomas-Bachli A, Huber C, Kraemer MUG, Khan K. Pneumonia of unknown aetiology in Wuhan, China: potential for international spread via commercial air travel. J Travel Med 2020;27:taaa008.
Liang W, Guan W, Chen R, et al. Cancer patients in SARS-CoV-2 infection: a nationwide analysis in China. Lancet Oncol 2020;21:335-7.
Murthy S, Gomersall CD, Fowler RA. Care for Critically Ill Patients With COVID-19. JAMA 2020;323:1499-1500.
Wang C, Pan R, Wan X, et al. Immediate Psychological Responses and Associated Factors during the Initial Stage of the 2019 Coronavirus Disease (COVID-19) Epidemic among the General Population in China. Int J Environ Res Public Health 2020;17:1729.
Evren C, Evren B, Dalbudak E, Topcu M, Kutlu N. Measuring anxiety related to COVID-19: A Turkish validation study of the Coronavirus Anxiety Scale. Death Stud 2022;46:1052-8.
Pinquart M, Duberstein PR. Depression and cancer mortality: a meta-analysis. Psychol Med 2010;40:1797-1810.
Hartung TJ, Friedrich M, Johansen C, et al. The Hospital Anxiety and Depression Scale (HADS) and the 9-item Patient Health Questionnaire (PHQ-9) as screening instruments for depression in patients with cancer. Cancer 2017;123:4236-43.
Spitzer RL, Kroenke K, Williams JB, Löwe B. A brief measure for assessing generalized anxiety disorder: the GAD-7. Arch Intern Med 2006;166:1092-7.
Sari YE, Kokoglu B, Balcioglu H, Bilge U, Colak E, Unluoglu I. Turkish reliability of the patient health questionnaire-9. Biomedical Research-India 2016;27:S460-2.
Konkan R, Senormancı O, Guclu O, Aydın E, Sungur MZ. Validity and reliability study for the Turkish adaptation of the Generalized Anxiety Disorder-7 (GAD-7) scale. Arch. Neuropsychiatry 2013;50:53-8.
Lee SA. Coronavirus Anxiety Scale: A brief mental health screener for COVID-19 related anxiety. Death Stud 2020;44:393-401.
Lee SA. How much "Thinking" about COVID-19 is clinically dysfunctional? Brain Behav Immun 2020;87:97-8.
Kurt ME, Çakmak C, Biçer İ. Validation of the Turkish version of the obsession with Covid-19 scale (OCS) Obsession with Covid-19 scale. Annals of Clinical and Analytical Medicine 2021;390-4.
Talevi D, Socci V, Carai M, et al. Mental health outcomes of the CoViD-19 pandemic. Riv Psichiatr 2020;55:137-44.
Liang L, Ren H, Cao R, et al. The Effect of COVID-19 on Youth Mental Health. Psychiatr Q 2020;91:841-52.
Wang C, Pan R, Wan X, et al. A longitudinal study on the mental health of general population during the COVID-19 epidemic in China. Brain Behav Immun 2020;87:40-8.
Shunmugasundaram C, Rutherford C, Butow PN, Sundaresan P, Dhillon HM. What are the optimal measures to identify anxiety and depression in people diagnosed with head and neck cancer (HNC): a systematic review. J Patient Rep Outcomes 2020;4:26.
Hawryluck L, Gold WL, Robinson S, Pogorski S, Galea S, Styra R. SARS control and psychological effects of quarantine, Toronto, Canada. Emerg Infect Dis 2004;10:1206-12.
Yang Y, Li W, Zhang Q, Zhang L, Cheung T, Xiang YT. Mental health services for older adults in China during the COVID-19 outbreak. Lancet Psychiatry 2020;7:e19.
Chen JH, Tong KK, Su X, Yu EW, Wu AMS. Measuring COVID-19 related anxiety and obsession: Validation of the Coronavirus Anxiety Scale and the Obsession with COVID-19 Scale in a probability Chinese sample. J Affect Disord 2021;295:1131-7.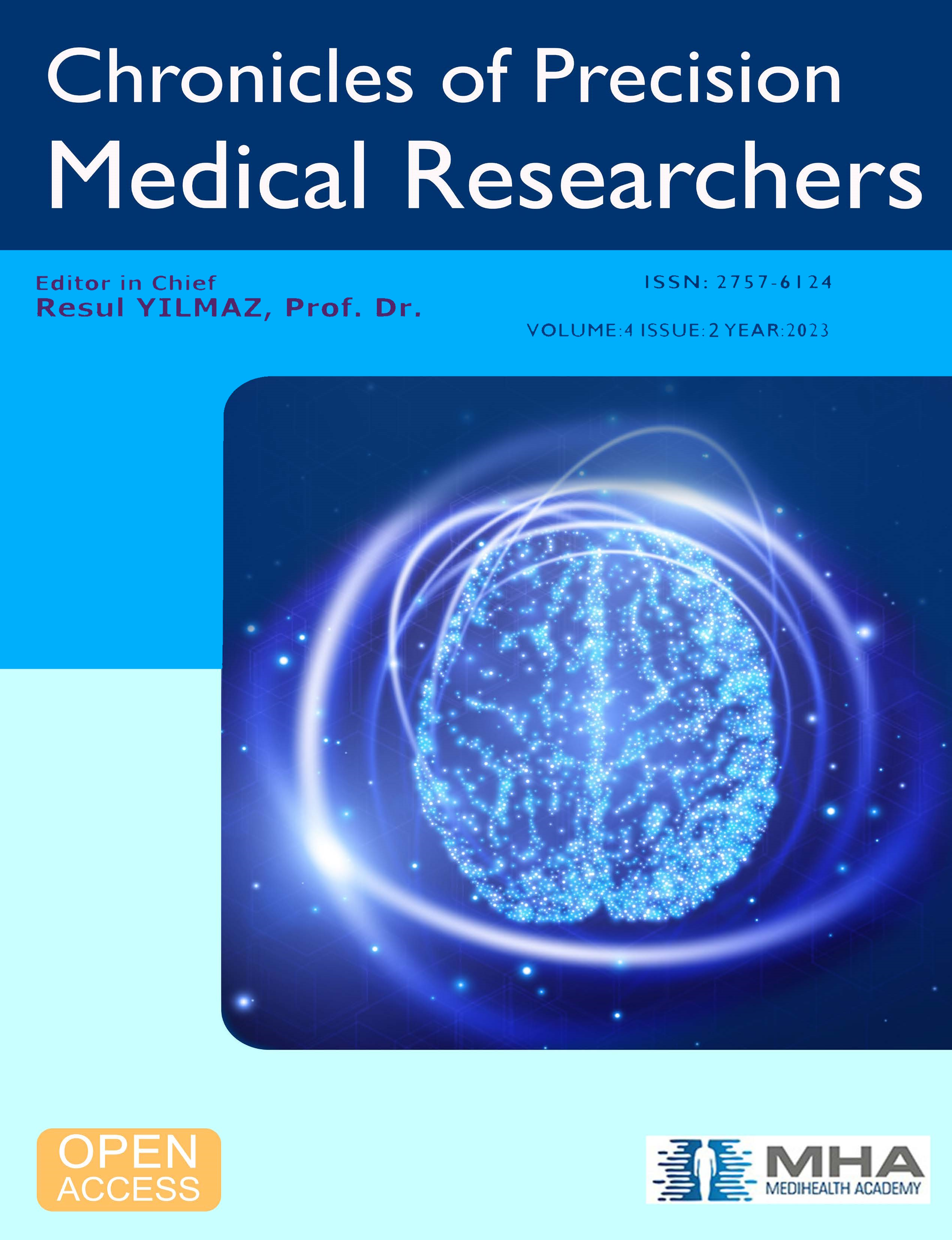 Downloads
How to Cite
KARAMAN, E., UYAR CANKAY, T., HOCAOĞLU, Çiçek, & AYDIN, E. (2023). Evaluation of Psychological Effects of Covid-19 Pandemic Process on Cancer Patients: Depression and Anxiety in Cancer Patients in Pandemic. Chronicles of Precision Medical Researchers, 4(2), 137–142. https://doi.org/10.5281/zenodo.8200976
Section
Original Articles
License
Copyright (c) 2023 Chronicles of Precision Medical Researchers
This work is licensed under a Creative Commons Attribution-NonCommercial-ShareAlike 4.0 International License.